NECLP, Inc. is governed by our by-laws which were reviewed and approved by the membership in 2011.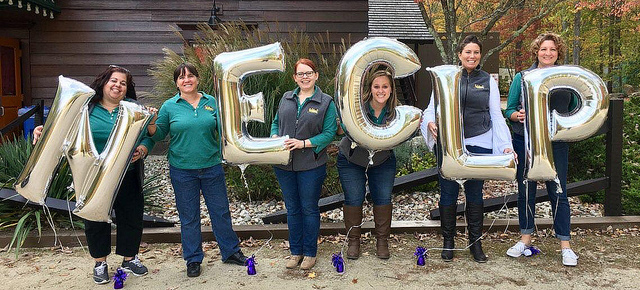 Lisa M. Cantore, MA, CCLS, CEIM
President
Connecticut Children's Medical Center
president@newenglandchildlife.org

Lisa has been working in the child life field for over 20 years. She received her BS from Wheelock College with a dual major in Child Life and Preschool/Kindergarten Education, and a Masters degree in Counseling from the University of Saint Joseph. Lisa's previous clinical child life experience included Hartford Hospital and Hasbro Children's Hospital. Since starting at Connecticut Children's Medical Center in 2010, Lisa has transitioned from the child life team to the arts program coordinator. In this role she is working to expand the art program to the observation unit within the Emergency Department, improve the pet therapy program, and partnering with the child life and volunteer departments to restructure a playroom. As a member of Child Life Council, she has presented at past annual conferences and participated in past committees, including the local planning committee for the annual conference in Boston.
Rachel Alley, BS, CCLS
Vice President
Baystate Medical Center
Springfield, MA
vicepresident@newenglandchildlife.org
Rachel received her BS degree in Rehabilitation Services with a concentration in pediatrics from Springfield College. She has worked at Baystate Children's Hospital since 1992. She originally started the in-hospital school program, co-facilitated a school-age bereavement group for 7 years, and primarily works inpatient with the infant/toddler population. Rachel also coordinates the student internship program at Baystate and is a Certified Infant Massage Instructor.

Karen Swartz, MS, CCLS, CEIM
Secretary
Hasbro Children's Hospital
Providence, RI
secretary@newenglandchildlife.org

Karen Swartz is a Certified Child Life Specialist. She received both her Bachelor's and Master's Degrees from Wheelock College: a BS in Human Development with a concentration in Child Life and a MS in Child Life and Family-Centered Care. She has worked at Hasbro since 1999, starting as the Child Life Specialist coordinating the STARBRIGHT World Computer Program. She now works in the Pediatric GI and Nutrition Clinic, the Cystic Fibrosis, Asthma/Allergy Clinic, and the Cardiac Clinic, as well as coordinating the IBD patient support group. In addition, Karen is a member of the Medical Board of Advisors for Team IMPACT, and is a Certified Educator of Infant Massage.
Micaela Francis, MS, CCLS
Treasurer
Joslin Diabetes Center
Boston, MA
treasurer@newenglandchildlife.org

Micaela received both her Bachelors and Masters degrees in Child Life at Wheelock College. She has worked at Joslin Diabetes Center since she completed her Bachelors degree in 2009. In addition to being a Certified Child Life Specialist, Micaela also serves as a care ambassador for the new patient program at Joslin. As a care ambassador she does monthly check-ins for patients and is there to help families navigate through the difficulties of diabetes and also provide many resources to families that help them adjust to this new way of life.
Kris Bruneau, CCLS
Member at Large B

UMass Memorial Children's Medical Center

Worcester, MA
memberatlargeb@newenglandchildlife.org

Kris has a Bachelors degree in English and Psychology from Williams College, but found her passion when she discovered child life and completed her internship at Children's Medical Center Dallas. Previously she worked as a Child Life Specialist/Care Ambassador at Joslin Diabetes Center. She has worked at UMass Memorial Children's Medical Center since 2008, first in the pediatric outpatient clinics and now on the inpatient unit. She also serves as the Internship Coordinator for the child life program at UMass and is a Certified Playmaker through the Life is Good Playmakers.
Heather Peach, MS, CCLS
Member at Large A

MassGeneral Hospital for Children
Boston, MA

memberatlargea@newenglandchildlife.org
Heather is a certified child life specialist in the Outpatient Pediatric Hematology-Oncology Unit and Francis H. Burr Proton Therapy Center at Massachusetts General Hospital. She received a B.A. in Psychology from Boston College and graduated with a M.S. in Child Life from Wheelock College. Heather began her child life career on a school-age through adolescent inpatient unit at MGHfC in 1997, and she transitioned to her current role in 2004. At the MassGeneral Hospital for Children Cancer Center Heather is a co-coordinator of the Patient Partner Program for the Mass General Marathon Team. She collaborates with the school re-entry team and facilitates children's yoga. She is engaged with many community groups to provide enhanced programming for the children and families at the MGHfC CC. Heather has also been an adjunct and site supervisor for Wheelock College child life students, and she has participated on the Child Life Council's Academic Task Force. She also serves on the Board of Trustees at Wheelock College.